The Carousel Hotel, (Sleepwell Hotels Ltd) Accessibility Statement - January 2018
Location
The Carousel Hotel is Located on New South Promenade in Blackpool. There is a bus stop and tram stop opposite the hotel approximately 2 minutes' walk. The bus and tram service run frequently most of the year with slight changes on Public Holiday's
There are 3 main train stations in Blackpool
Blackpool North – By taxi 15-20 Minutes costing approximately £10
Blackpool South – By Taxi 10-15 Minutes costing approximately £8
Blackpool Pleasure Beach – By Taxi 2 Minutes costing approximately £4
For Rail enquires please call 08081561606
The nearest commercial airport is Manchester International Airport. A regular train service is available that runs from Manchester Airport to Blackpool North. (Via Preston). If you would prefer a taxi please call Manchester Airport Taxi Service on 01615071750
Wheelchairs Access
The main hotel entrance has a ramp access (see image below), to one side of the doorway to assist access for any guests using a wheelchair. The front door measurements are 39 Inch width & 83 Inch Height. The hotel also has a back entrance leading from the guest Car Park with standard doorways through to reception. The ground floor of the hotel features a bar restaurant and reception and is all flat with no steps. There is a disabled toilet and babe change facility to this area also.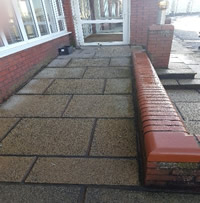 The hotel has 3 lifts, North, South and Central. The lift in the 'centre' of the hotel is the largest and is more suitable for guests in a wheelchair.
We recommend that wheelchair users check the dimensions of their wheelchair before making confirmed reservations at the hotel to ensure the lift size is suitable.
The measurements for the lift are 35 inch width (89cm) / 42 inch depth (106cm)
Car Parking
The hotel has a small car park at the back of the hotel for 15 vehicle spaces. Due to guests arriving and departing at various times and variances on demand, guaranteed parking reservations are not always possible. Should any guest contact the hotel prior to their arrival we (were possible), will do our utmost to reserve a space. At the front and sides of the hotel it is possible to park on the surrounding residential roadways unrestricted.
Hotel Reception and internal accessibility to reception, public areas, main restaurant and conference facilities.
The main entrance to the hotel has a ramp to one side for wheelchair access:
The hotel reception is accessed immediately in front of you on entering the building.
The ground floor of the hotel incorporates, Reception Desk, Restaurant & Bar, Public Lounge Areas, Public Toilets, and Disabled Lavatory with grab rails.
The hotel bedrooms are located over the 1st 2nd 3rd Floor bedrooms, accessible by the lift or stairs.
The hotel lift is gated, so this will need to be opened and closed on entering and exiting it for the lift to operate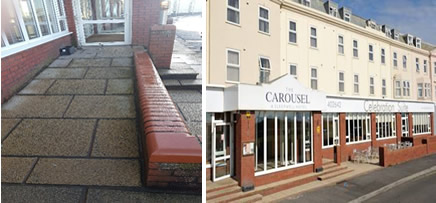 Bedrooms
The Hotel is self-contained with 91 rooms of various sizes and lay outs. Floor plans for specific rooms can be provided on request.
Beds are of various sizes and heights. Details of any specific bed height as per room type booked can be provided on request.
A combination of ceiling, wall and table lamps are available. Additional lights can be supplied to guest bedrooms on request.
All decoration is primarily light coloured paint finished walls with a mixture of light wood furnishings subject to room type. Rooms have varying brightness during the day subject to varying window apertures and whether the room has a sea facing location. Windows have blackout blinds and / or curtains fitted to ensure early morning light does not disturb.
Some of the furniture can be moved should it be required; however, some rooms have fixed beds, desks and other elements of joinery which cannot be removed.
All bedding is cotton.
Pillows are foam, alternatives may be provided on request
Guest room TV's have multiple channels with a standard domestic style remote control. No use instructions, or audio description is specifically available or this.
There is an in-house telephone on the bedside cabinet, however the major (local) mobile network providers have good signal strength.
Guest room bathrooms and lavatories
All bedrooms are en-suite and in keeping with the various room designs have varying lay out and facilities.
All rooms have showers none have baths
Non- slip / rubber 'bath-mats' are available on request.
Lavatories and sinks are at standard heights as per domestic arrangements, additional details can be provided on request and subject to any specific room as may be booked.
There are hand rails in all Accessible rooms and grab rails at the side of the toilets
Lighting is supplied from central ceiling, shaver, and in some cases an integral shower cubicle light.
Accessible Bathroom: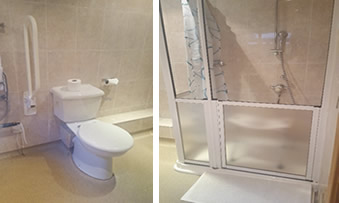 Guest safety
All guest bedrooms and public areas have heat / smoke detectors and fire alarm sounders to local fire certification requirements. Guests who would require special assistance in the event of an emergency evacuation are asked to inform the hotel on arrival. This information will be passed to local Fire and Rescue services upon their attendance. Lifts should not be used in an emergency evacuation due to any potential power cut.
Dogs and Pets
We do not accept pets, however if you wish to bring your assistance dog, please contact us to discuss your individual requirements.

Future Plans
Sleepwell Hotels is committed to continuous ongoing improvement of our properties. Within the limitations of the building, planning and conservation area restrictions and we endeavour to incorporate more features to assist those with disabilities.
---

Contact Information
Address:  The Carousel Hotel 663-671 New South Promenade Blackpool FY4 1RN
Telephone:  (01253) 402642

Email:     This email address is being protected from spambots. You need JavaScript enabled to view it.
Website: www.carouselhotel.co.uk
Hours Of Operation:    24 Hours
Local Accessible Taxi:  24 Hours (pre-booked)
---

Additional Statement from Sleepwell Hotels Ltd:
We are an equal opportunity employer. We consider diversity and equality as the highest importance. We will not tolerate any discrimination in any form whatsoever against our guests, staff and colleagues including, discrimination, harassment or victimisation. We wholeheartedly support the future Equality Act and its many provisions.
We ask that all persons attending or considering attending our hotel please contact us to discuss any requests or requirements that we may be able to assist with and we will always endeavour to accommodate where this may be possible.